It's safe to say that the Second Annual Midwest Vanlife Gathering blew the first one out of the water! It took place May 17th-19th, 2019 at Camp Manitowa-Cedar Point in Makanda, IL. It was a fun-filled weekend of community, camaraderie, music, potlucks, yoga, checking out rigs, bonfires, and giving back.
Thanks to our wonderful attendees and out awesome sponsors, the 2019 Midwest Vanlife Gathering raised $8,526.07 for our local Midwestern nonprofit partners!
Here's how we broke out the donations:
Wanna know what the weekend was like? Here's a list of some of the activities:
EPIC charity raffle (see below for some of the prizes)
A kickoff concert by the awesome St. Louis-based roots-Americana band The Mighty Pines
Workshops and discussion panels on vanlife topics
Guided yoga and meditation sessions
Miles of hiking and biking trails, and a 9-hole disc golf course on site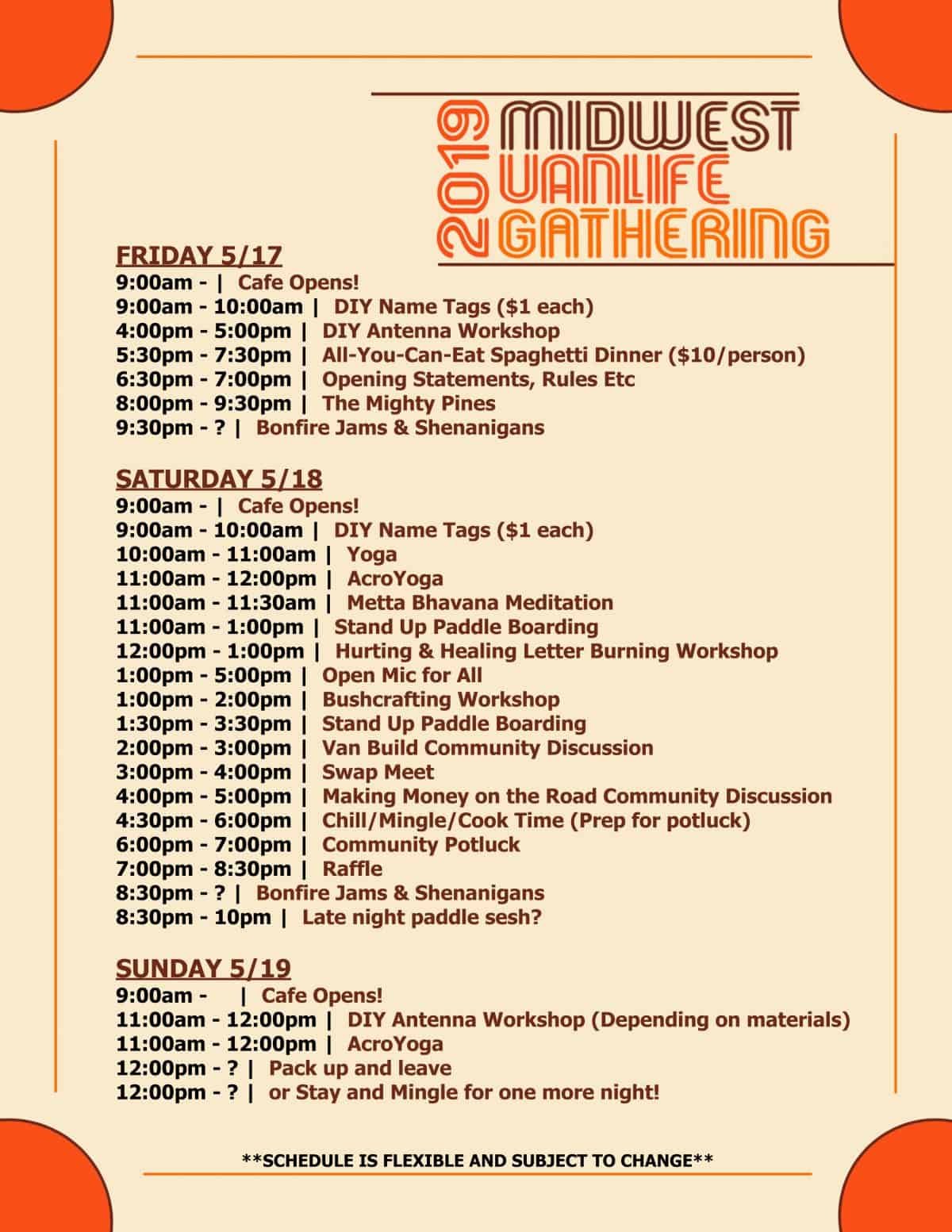 The EPIC Charity Raffle included many awesome items from generous companies, including:
18 Sets of Eclipse Sunshades

MaxxAir Ventilation Fan

Mr. Heater Portable Hot Water Shower, Heater, and Warmers

Warm Company Reflective Window Insulation

Lodge Cast Iron Products

Coleman Cooler, Propane Stove, and Propane Coffee Maker
The Midwest Vanlife Gathering is a fundraiser. 100% of the proceeds from ticket sales and the raffle were donated to our nonprofit partners.
Our awesome promotional partner for the event was The Project Vanlife.
2019 Midwest Vanlife Gathering Sponsors
The first ever Midwest Vanlife Gathering was a huge success! We had over 100 vans and 150 people attend for a fun-filled weekend in Missouri's beautiful Mark Twain National Forest.
Thanks to the wonderful nomads who attended and the awesome companies who donated so many kickass items to our charity raffle, we were able to raise over $6,000 for Adventure Works, a nonprofit in Illinois that works with marginalized youth through the power of wilderness therapy.
Our promotional partner for the 2018 Gathering was Vanlife Diaries.